Healthcare for All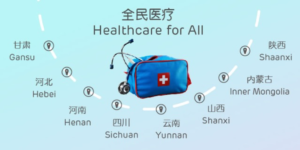 From Children's Medical Care, the mission of Foundation expands to Healthcare for All, caring not only children, but also vulnerableadult populations such as the disabled, the elderly, grown up orphans, migrant workers, care-givers and so on.
Further, besides providing medical service within United Family hospitals and clinics, for those who are unable to reach a United Family facility or those who need specialized treatment, Foundation sponsors medical care in local and specialized hospitals in cash.
We aim to improve health for all people.
Project Progress
2020
May.25th  40,000 Masks From Algeria at the Beginning of the Pandemic
Mar.26th  Donate Antimicrobial Dressings and Join Hands to Fight the Epidemic
Feb.17th  Ten Non-invasive Ventilators arrived at Wuhan Leishenshan Hospital on February 8th – The Story Behind
2019
May.15th For Poor Mothers, Let's Set Out Again
2018
Feb.9th    Song Hui's Story
Feb.2sd    A world without Leprosy
2017
Jul.11th    Fangfang's story