Ten Non-invasive Ventilators arrived at Wuhan Leishenshan Hospital on February 8th – The Story Behind
By 赵熙
Hubei Daily reported on February 8th, 2020: "Members of the first medical teams have arrived and the first patients will be admitted today. The hospital will provide 32 wards and 1,500 beds, and make every effort to treat patients diagnosed with COVID-19."
The hospital mentioned above is Wuhan Leishenshan Hospital, which is located in Qiangjun Road, Jiangxia District, Wuhan, and specially designated for patients diagnosed with COVID-19 in the fever clinic and inpatient department of various hospitals. It draws on the experience of Xiaotangshan Hospital during the SARS period, only providing inpatient department with no outpatient service. It has 1,500 beds distributed in 2 ICU wards, 3 sub-ICU wards and 27 general wards, and also has an operating room for the treatment of patients during their hospital stay. However, the hospital still needs ventilators, especially non-invasive ventilators. Dr. Anna Zhao, Executive Director of Beijing United Foundation for China's Health (Beijing UFCH), worked as an anesthesiologist in a third-grade class-A public teaching hospital in Beijing during the SARS period in 2003. At that time, the hospital was temporarily used as a designated hospital for critically ill patients in Beijing, and she kept a diary of her clinical frontline work. Based on our work experience in the SARS ICU, we immediately realized that ventilators are in great need in the frontline. As far as the patient's conditions permit, non-invasive ventilators can avoid medical infection as much as possible. Therefore, we immediately screened and finally selected non-invasive ventilators of a certain brand. With the support of the company's founder, 10 ventilators were dispatched from Suzhou factory, which were ready for shipment before the procurement contract was completed and the payment was made.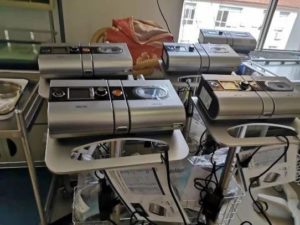 On the other hand, we contacted with the donor, namely KPMG China. As one of the world's top 4 audit firms, KPMG China has always fulfilled its corporate social responsibility. We are partners who trust each other. Soon, everything was ready for the fundraising. Based on the wishes of the donor, the connection between our Foundation and Wuhan Leishenshan Hospital was also progressing. Despite the complication and difficulties, we were moving ahead day and night, with the aim to serve the fight against the epidemic.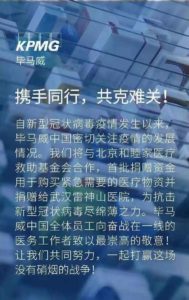 KPMG
Work Hand in Hand to Overcome Difficulties!
Since the outbreak of the COVID-19 epidemic, KPMG China has paid close attention to the development of the epidemic. We will cooperate with Beijing United Foundation for China's Health, and the first donated funds will be used to purchase medical supplies in urgent need and donated to Wuhan Leishenshan Hospital, so as to make contribution to the fight against the COVID-19 epidemic. All staff members of KPMG China pay their highest tribute to the frontline medical workers! Let's work together to win the battle without smoke of gunpowder!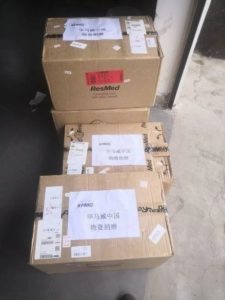 Finally, the materials set out from Suzhou on February 5th by EMS. Despite all the twists and turns along the way, we monitored and communicated in real time, and contacted with local colleagues to ensure the successful delivery. Finally, 10 non-invasive ventilators were delivered to Leishenshan Hospital at noon on February 8th from Zhifang delivery station of Jiangxia District. At that night, Wuhan Leishenshan Hospital started to receive and treat patients.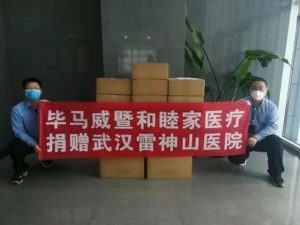 KPMG and United Family Healthcare jointly donate to Wuhan Leishenshan Hospital
We are still working hard to collect more medical supplies and deliver them to the frontline, especially the primary medical institutions. We are still making efforts, and we need your support to help us and help everyone.