United Foundation for China's Health
United Foundation for China's Health (UFCH) was established in 2001, with main operation in China. We have been delivering Children's Medical Care Program to help those orphaned children with medical need. In the past years, we have been focusing on the health and care area including maternity care, disease aid and capacity building as well as medical education.
UFCH is the Corporate Social Responsibility (CSR) arm of the United Family Healthcare (UFH).  UFH is the largest donor to us and 1% of the annual revenue from UFH goes to support life-saving and life-changing surgeries, hospital, clinical and specialty care for underserved children and adults across China.
Meanwhile, UFCH has a Wheels for Life (WFL) mobile clinic program staffed by UFH doctors and nurses serving the community based population including orphaned children, migrant families and those in need. Through WFL, we help those in need to access free healthcare provision with overcoming the 'last mile' challenge. Since its operation in November 2015, the WFL mobile clinic has driven more than 20,000 kilometers in China including Jing-Jin-Ji (Beijing, Tianjin and Hebei province), Ningxia Hui Autonomous Region, Shaanxi and Yunnan provinces.
We hope to serve and integrate with the communities through providing ongoing training, education and seminars to caregivers, doctors and nurses and the general public.
Being a non-public foundation, we successfully registered with Chinese civil affairs authority in January 2018 as a charity organization.
'Healing brings hope', which is our vision to achieve.
Our Mission
Foundation strives to improve the lives of underserved population in China, including orphans, handicapped and migrant population, through healthcare initiatives and services by using its technical expertise and experience in the country.
Moreover, we set up training programs for medical professionals and care-givers.
Healing brings hope
Logo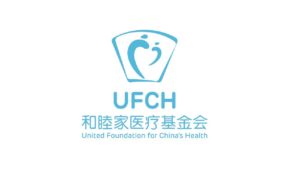 The icon makes people have different thoughts of the idea of United Foundation for China's Health (UFCH), allowing different people to have different concepts and opinions about UFCH.
This is the reason why the designers used simplified graphics instead of specific graphics to interpret UFCH. Apart from representing UFCH, this icon also represents Foundation and the people who need help have close relationship.
The heart shape in the icon is made up by two asymmetrical lines and two different sizes dots, and this makes the heart shape looks like there are two face-to-face people or groups.
For some people, they might represent adult and children; for some other people they might represent helpers and vulnerable groups.
The icon is surrounded by an arched shape window which often appearing in traditional Chinese buildings. This arched shape window implies looking through a window at a caring group and a caring people in the icon.
Address
United Foundation for China's Health
B7, Universal Business Park, 10 Jiuxianqiao Road, Chaoyang Dist., 100015, Beijing, China