Donate Antimicrobial Dressings and Join Hands to Fight the Epidemic
Since 2001, United Family Healthcare (UFH) has been working with more than 30 foster homes to provide medical assistance to orphaned and disabled children. In the long-term cooperation, we have received feedback from many agencies that many orphaned and disabled children have congenital diseases and need to retain the stoma channel or long-term intubation after the surgery. One of the challenges that children often face is that an infected wound is difficult to heal. This problem was exacerbated during the COVID-19 epidemic, when people were required to stay at home in self-quarantine and unable to visit the hospital for medical treatment. How to keep children's wounds clean and free from infection?
At this time, a professional institute provided publicity & education on infection control and donated 2,000 pieces of antimicrobial dressings to the Foundation, so as to help perioperative children get through this special time. We learned that these advanced antimicrobial dressings have been used safely around the world for 75 years without drug resistance. They are highly effective, non-toxic, and can directly kill bacteria and prevent bacteria from invading and growing, thus preventing the wound infection. With an integrated design, they are most suitable for wounds with mild postoperative exudation, because they avoid frequent replacement and save the workload and burden of caregivers.
After learning about this, staff of the Foundation shared this information in the long-term partner group, and many agencies said they are in great need of such dressings. Finally, we precisely donated these dressings to 5 foster homes located in Beijing, Tianjin and Shanghai based on their specific needs. The orphaned and disabled children in these agencies visit United Family Hospital all year round for free diagnosis, free surgery and free medication. With these donated dressings, our medical assistance can be further extended to remote clinical publicity & education and home care.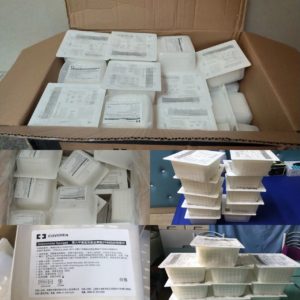 The above pictures show antimicrobial dressings donated to all parts of China.
During the epidemic, everyone is concerned about the situation of fighting the epidemic in Hubei Province, especially the medical care in the designated hospitals for COVID-19. If these dressings can reduce the frequency of replacement, they can to some extent also reduce the frequency of medical exposure, which would help avoid the infection. In addition, if the incidence of would infection is reduced, then the antibiotic use is correspondingly reduced, which would also help patients recover.
Therefore, we urgently contacted Sinopharm Dongfeng General Hospital of Shiyan, Hubei Province, also known as Dongfeng Hospital affiliated to Hubei Medical University (formerly Wuhan First Hospital founded in 1927). As soon as we learned that these antimicrobial dressings can be used for the management of endotracheal intubation in patients with severe COVID-19 and maintenance of ECMO patients, we further sought more donations and supported the frontline of the fight against the epidemic together with donors.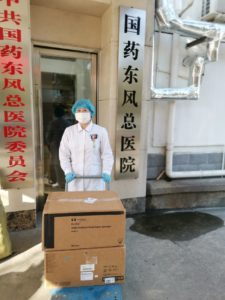 The picture shows Sinopharm Dongfeng General Hospital of Shiyan, Hubei Province receiving the donations
Special thanks to Beijing Huacheng Trading Co., Ltd for the generous donation