For Poor Mothers, Let's Set Out Again
Recording the Trip to Inner Mongolia for Two Cancers Screening for Women by UFCH in 2019
 Anna Zhao, Executive Director of UFCH

Under the framework of "Targeted assistance of Inner Mongolia in terms of health poverty alleviation by Beijing", UFH & UFCH with the Health Committee of the Inner Mongolia Autonomous Region will jointly carry out the public welfare project of "female cervical cancer and breast cancer screening" in three national poverty-stricken banners and counties in the autonomous region.
During the preparatory period, Mr. Ouyang Xiaohui, the vice chairman of Inner Mongolia Autonomous Region, has given professional advice to the screening project based on his solid medical professional background, planned the screening route, and finally determined the three national poverty-stricken counties as the screening site, namely, Bairin Quoqi in Chifeng City, Arxan in Xing'an League and Moridawa Qi in Hulunbei'er City.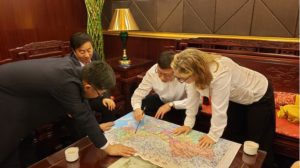 Vice Chairman Mr. Ouyang Xiaohui planing the route on the map of the autonomous region,photo taken on April 15th, 2019
Vice Chairman Mr. Ouyang Xiaohui and Mr. Xu Hongzhi, the Director General of the Health Committee, met with Roberta Lipson, CEO of UFH and Founder of UFCH, who shared stories about her stay in China for the past forty years –Two Cancers Screening for Poor Mothers.
In view of the education level of local women, Roberta Lipson recorded the HPV self-sampling teaching video in order to improve the examination rate. The staff from UFCH also designed four labels to ensure the accuracy of the specimens and the workflow considering the large number of examined women.
In addition to medical professionals from UFH in Beijing, Shanghai and Guangzhou, doctors and volunteers from the United States, Canada and Israel led by Dr. Andrew Goldstein also joined in the screening project. Just as the saying goes, "give a man a fish and you feed him for a day while teach a man to fish and you feed him for a lifetime". Besides screening, the international team conducted interactive discussions and practices on the spot to promote patient self-sampling, clinical treatment based on on-site HPV detection results and the cervical disease image AI application. At the same time, two doctoral researchers from Peking University Cancer Hospital and Beijing Institute for Cancer Research also carried out questionnaires on the knowledge and behavior of cervical disease prevention and treatment.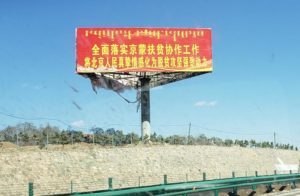 Photo by the Executive Director of UFCH on the road during her visits to the banners and counties of Inner Mongolia twice in April 2019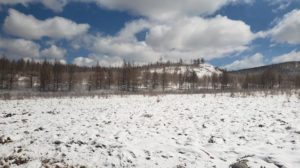 Photo taken in the legendary "Dreamy Arxan in Greater Xing'an Range", Anna Zhao
Background
Established in Beijing in 1997, United Family Healthcare(UFH) has grown into a high-end private hospital complex of international standard, with its hospitals and clinics located in seven cities across China. Since 2001, UFH has donated 1% of the annual revenue to help orphaned and disabled children, families in need and women in poverty-stricken areas out of corporate social responsibility. UFCH (Beijing United Foundation for China's Health) was officially registered with Chinese civil affairs authority in 2018 as a charitable organization.
UFCH has a Wheels for Life (WFL) Mobile Clinic program to serve the people in remote areas to overcome the "last mile" challenge in accessing medical aid. Since its operation in November 2015, the WFL Mobile Clinic, equipped with advanced medical equipment, has enabled UFCH to deliver its advanced medical services to many remote communities and long-term partner organizations around Beijing and across the country. With this mobile clinic, UFCH have traveled long distances to bring cervical cancer screening to the poor women in remote areas.
Areas covered by WFL mobile clinic program of cervical and breast cancer screening for the poor mothers:
In August 2018, UFCH provided cervical cancer screening and on-site treatment and breast cancer screening for local minority women in Xundian County (national poverty-stricken county) in Kunming City, Yunnan Province.
In June and September of 2018, UFCH entered the poverty-stricken areas of Shaanxi Province twice to conduct cervical cancer screening for local women.
In August 2017, UFCH went beyond Beijing for the first time and arrived in Ningxia Hui Autonomous Region to conduct cervical cancer screening and on-site treatment and breast cancer screening for local minority women.
Take the cervical cancer screening in Kunming in August 2018 as an example. With the support of the Kunming Municipal Health Committee, UFH & UFCH care for the health of women in rural areas, safeguard their reproductive health, and promote early prevention and treatment of cervical cancer through early diagnosis and detection in poor counties of Kunming, improving the self-care awareness and health level of women in rural areas by delivery of free screening for mothers in the three poor towns and villages of Xundian County.
Cervical cancer and breast cancer are high-risk diseases of women, but prevention and treatment of the cancers is far from being taken seriously in remote areas of China restricted by local transportation, economy, education and medical care level. Given that women, especially mothers, play an important role in the family, UFH & UFCH have decided to bring its quality medical resources to local mothers, providing free screening and on-site intervention to ensure the long-term well-being of every family.
HEALING BRINGS HOPE
治愈承载希望