Trip to Liushao Township – United Family Healthcare & Foundation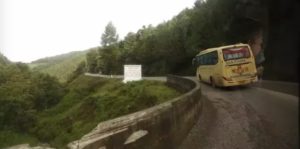 Rugged mountain road to Liushao Township
At the dawn of July 29th, the Chinese & foreign expert team set off 7 o'clock sharp. The destination this time was Liushao Township, which is a poverty-stricken alpine township where ethnic minorities live. Located in the middle west part of Xundian County, Yunnan Province, Liushao Township is 60 kilometers from the county town and 120 kilometers from Kunming city, with an altitude of 2100 to 2900 meters. During the over one hour drive from to the Township Health Center on a steep mountain road, many staff members experienced different degrees of altitude sickness.
Upon arrival at the Township Health Center, staff members started work immediately, regardless of their physical discomfort. During the screening process, we found that women here are generally less educated, with 50 to 60 percent of them illiterate. But this did not prevent them from expressing gratitude to the doctors who gave them treatments, with a simple smile from heart.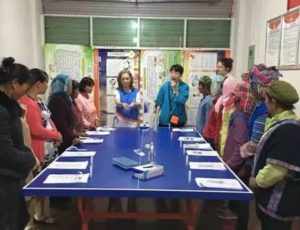 Madame Roberta Lipson, CEO and founder of United Family Healthcare and Foundation, providing self-test training to local women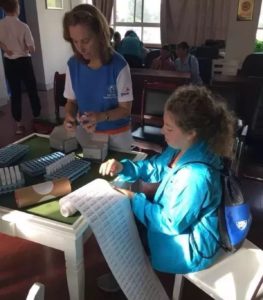 Madame Roberta Lipson and foreign volunteer busy with preparation
At the breast ultrasound screening site that afternoon, we found two middle-aged women, of Yi ethnics, suffering from mammary gland hematoma with ball-like skin tension for several years, yet have never been treated. The screening experts treated the patient on-site, through puncture and aspiration. In the cervical screening area, two patients with cervical polyps were identified. The experts also removed the polyps and treated the disease on site. At last, the patients smiled with relief after being afflicted by illness for many years.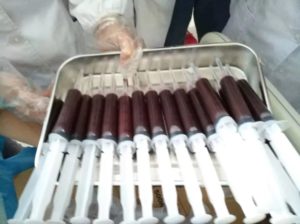 puncture and aspiration
On this day, we completed a total of 436 screenings in Liushao Township. Local village doctors spontaneously sang a mountain song to express their gratitude to the hard-working Chinese and foreign experts.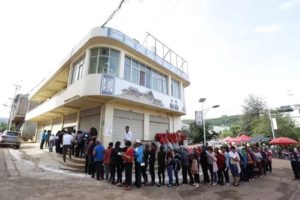 It was already 10 o'clock at night when we returned to the station. Though physically tired, we felt extremely excited. We would like to thank the unsophisticated local villagers for their true feelings and sincere heart, which deeply touched our soul. Just as a Chinese saying goes, those who practice medicine shall have not only super medical skills, but also a benevolent heart.
We will never forget our original heart and keep making progress.