Personal Thoughts on Attending 2019 CPAH
By 理事长赵熙
Anna Zhao, Executive Director of Beijing UFCH
On November 2nd, 2019, Roberta Lipson, founder of United Foundation for China's Health (UFCH), and Anna Zhao, Executive Director of Beijing UFCH, attended the First Chinese Physicians Assembly for Humanity (CPAH) in Wuxi at the invitation of China Primary Health Care Foundation. As representatives of a non-public medical institution and foundation, we are very grateful to the organizer for the kind invitation. At the same time, we have some personal thoughts to share with you.
Group photo of Roberta Lipson, Chen Zhu and other leaders at thewelcome dinner
"Be a Great Doctor with Sublime Sincerity and Bring Benefits to the People"
This is the theme and purpose of this conference. "Be a Great Doctor with Sublime Sincerity" is taken from the first volume of Beiji Qianjin Yaofang (Prescriptions Worth a Thousand Pieces of Gold for Emergencies) written by the well-known medical scientist in the Tang Dynasty Sun Simiao, which is a very important works on medical ethics in the classics of traditional Chinese medicine and is a must-read for medical practitioners. "Be a Great Doctor with Sublime Sincerity" puts forward that doctors shall not only master superb medical skills, but also have noble medical ethics. They shall regard patients' suffering as their own, and have a heart of great compassion and sympathy. This also echoes with charity or public welfare we talk about today. With a benevolent heart, doctors shall naturally serve the health of the people, and "bring benefits to the people". I think it is the essence of medicine.
When we talk about "great doctor", I must mention Chen Zhu, one of the keynote speakers at the conference. He has many titles and honors, but in the introduction at the conference, the title of "molecular biologist and academician of the Chinese Academy of Sciences" was put ahead of other official positions. From this detail, we can see that he puts his role as a medical scientist in the first place, which is really admirable. He started his career in the 1970s as a barefoot doctor in the field, saved countless lives all the way along, experienced many ups and downs in life, but always bears in mind his original intention even when he holds senior positions now. He can be called a "great doctor".
So, it's not difficult to understand why he attached great importance to the following 4 aspects in his keynote speech. He also sets an excellent example himself:
To grasp superb medical skills;
To practice noble medical ethics;
To spread medical civilization;
To promote medical public welfare!
Chen Zhu was delivering a keynote speech at the First CPAH
Chen Zhu led the Chinese and foreign colleagues to read the Declaration on Chinese Patient Assistance Initiative, which is the most powerful initiative:
… We call on the whole society to work together and actively participate in and support the cause of Chinese patient assistance, and strive to promote the accessibility of medicine, benefit patients, improve the quality of life and ultimately achieve the goal of "health for all".
Reading the Declaration on Chinese Patient Assistance Initiative together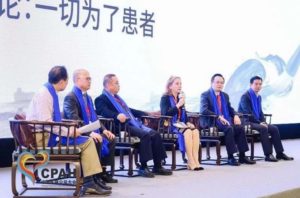 Roberta Lipson participating in the roundtable discussion "All for Patients"
Meet my idol – Academician Zhong Nanshan – again after 15 years
In the roundtable discussion on "Social Organizations Contribute to Medical Humanity", Academician Zhong Nanshan personally presided over this session as the moderator of the conference, and I also had the honor to participate in the discussion as a guest.
When it comes to medical public welfare, we shall never forget what happened during the Severe Acute Respiratory Symptom (SARS). Many health care workers even dedicated their lives. I felt very excited when I met Academician Zhong again, because the last time we met face to face was 15 years ago. It was during the outbreak of SARS, and I was still an anesthetist who was practicing medicine in Beijing back then. At that time, the hospital where I worked was designated as a medical institution that received severe SARS patients. On May 8th, 2003, as an anesthetist, I together with my seniors and colleagues in the department received the first group of severe SARS patients… On June 24th, World Health Organization (WHO) declared Beijing to be free of SARS and lifted its travel warning, which indicated that the battle against SARS in Beijing was successfully completed. Later, a total of 4 patients with SARS recurrence appeared in Guangdong Province, China. Then, I was temporarily seconded by WHO representative office in China to participated in a joint investigation team of WHO and the Chinese Ministry of Health to investigatein Guangdong. I clearly remember that on the day of the New Year on January 1st, 2004, the joint investigation team and the local working group led by Professor Zhong Nanshan held a full-day meeting from 8:00 am to 8:00 pm. And that was just one of the many joint investigation meetings during that time. Speaking of this, who can forget?
I am very impressed that Academician Zhong Nanshan is a senior citizen of nearly 85 years old, but he is still physically strong and quick-thinking, and dedicates himself to "medicine". Therefore, at the end of the roundtable discussion, everyone agreed that public welfare is not only for the people, but also for oneself, because doing good things to help others is the happiest thing, and it can also prolong life.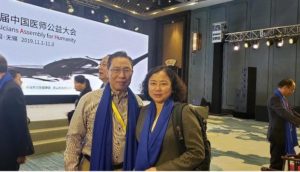 Anna Zhao met with Academician Zhong Nanshan again 15 years after the successful battle against SARS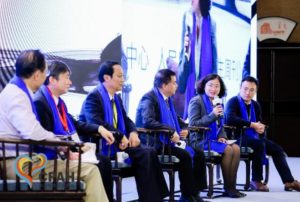 Academician Zhong Nanshan was chairing the roundtable discussion "Social Organization Contribute to Medical Humanities"
Medical Public Welfare with Scientific Methods
During the conference, I listened to many excellent public welfare projects, and was very impressed by the drug assistance project. (Note: The more professional name for this project is the "Patient Assistance Program", PAP).
At the Conference, China Public Welfare Research Institute of Beijing Normal University and the China Patient Assistance Alliance (CPAA) jointly released China Drug Assistance Research Report (draft for discussion). This 29-page report analyzed and summarized various stakeholders of PAP in a detailed, rigorous and objective manner. It elaborated the details of project implementation from the perspectives of suppliers and recipients (patients), especially pointing out the key role of social organizations such as funds in the organic connection of the above two related stakeholders.
In clinical medicine, we must use evidence-based method. In the above research, we also saw rigorous and objective evidence-based thinking, which is very convincing. In comparison, the medical assistance in United Family Healthcare (UFH) has been actually operated for 18 years. In preparation for this conference, we sorted out and summarized some statistics, which were quite amazing. In the past 18 years, UFH has donated a total of 150 million RMB in medical services, and the number of patient visits in UFH hospitals and clinics across China exceeded 20,000. When we reported these numbers, the audience gave spontaneous applause. As a non-public medical institution, UFH grew from just 1 hospital in 1997 to a total of 9 hospitals and 14 clinics covering 8 cities, and never discontinued public welfare activities.
In 2018, UFH and its founder, Roberta Lipson, co-founded Beijing UFCH, officially established a charitable organization, and continued to serve the health of people and provide medical assistance.
"Healing brings hope". On the road of medical public welfare, we will keep moving forward together with you!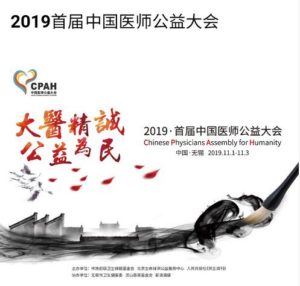 HEALING BRINGS HOPE
治愈承载希望