Beijing United Foundation for China's Health Joined Hands with "Youhujia Mom" to launch the Family Massage Empowerment Program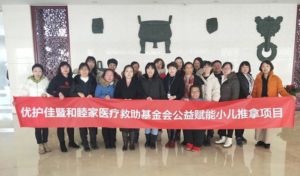 At the beginning of the new year, Beijing United Foundation for China's Health (Beijing UFCH) joined hands with "Youhujia Mom" to launch a public welfare empowerment program for caregivers from more than 10 different child welfare agencies.
The two-day training focused on family massage, commonly known as "pediatric massage", which is mainly used for the daily health care for children aged between 0 and 14. It is a non-drug, painless, easy-to-use and effective natural therapy with reasonable price, which is recognized and accepted by ordinary people. Many orphaned and disabled children suffer from diseases. With this skill, caregivers in child welfare agencies can help children prevent diseases and promote recovery at any time. Here we would like to emphasize that such massage only has the health care function, and does not belong to the medical treatment.
"Youhujia Mom" is a brand of United Family Healthcare (UFH), which is mainly engaged in the puerperal nursing, infant care, postpartum nutrition, postpartum psychological health guidance, pediatric massage, infant early education, professional nursing of the postpartum pelvic floor muscle rehabilitation center and other maternal and child related services. In order to demonstrate its corporate social responsibility, "Youhujia Mom" provided the training venue and its own excellent trainers for free, so as to promote the public welfare and help children in difficulty.
On January 13th and 14th 2020, the two-day empowerment training covered four major sections, including theoretical and practical courses on "Spleen and Stomach Healthcare", "Breath", "Enhance Lung Functions and Improve Disease Resistance" and "Nasal Congestion". Ms. GU Fangzhu, the public welfare trainer, is a senior pediatric masseuse and massage trainer. Besides, she has also received the qualification as a senior nursery teacher and the certification from the Open University of China. Meanwhile, she is also a senior mother and child nursing specialist, has been engaged in the training and management of mother and child nursing for many years and obtained many honorary certificates.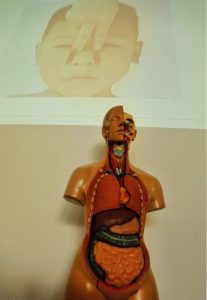 After the two-day training course, participants formed pairs and experienced operations, and mastered thoroughly from theory to practice. Although trainers and participants were painstaking, but everyone felt a sense of achievement.
Many thanks to "Youhujia Mom" for your graduation cake. I hope that we can continue to work together to empower more caregivers and help more children in need.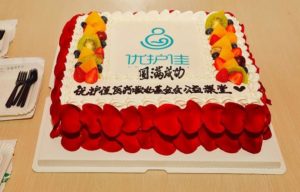 UFH donates 1% of its operation revenue to medical assistance every year.
Healing brings hope.