Wheels for Life Trip to Heng Ai Foster Home
By Mengmeng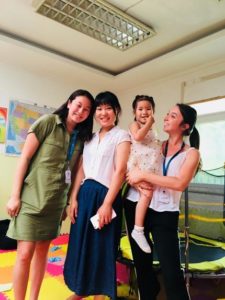 On June 25th, the United Foundation for China's Health (UFCH) Wheels for Life mobile clinic visited Heng Ai Foster Home in the suburbs of Beijing, south of the city. UFCH brought a team of Beijing United Family Hospital doctors, nurses, and volunteers.
Heng Ai Foster Home cares for orphan children, most of which have serious medical conditions such as leukemia, tumors, autism, Down syndrome, cleft palate, and many other congenital diseases and conditions. Despite their severe medical problems, I found that the children had generally bright spirits and were very eager to play with us.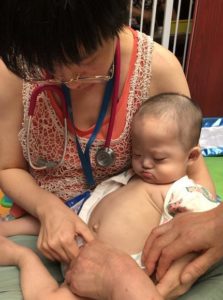 One child I especially connected with was a one and a half year old baby boy named Xiao Bao. Xiao Bao loved it when I sang to him. He would smile and laugh brightly when I help him and bounced him up and down.
As a volunteer with no significant medical training, I was surprised and impressed by the doctors' abilities to provide quality health check-ups to these children outside of a formal hospital. In order to acquire a detailed medical history, the fellow doctors began by questioning the caregivers about each child individually. Then the doctors proceeded to physical examinations of each patient. I helped to collect the measurements. Under the supervision of family medicine doctors, fellow doctors studied and discussed patient's overall health and wellbeing. The doctors then established a precise treatment plan for each child.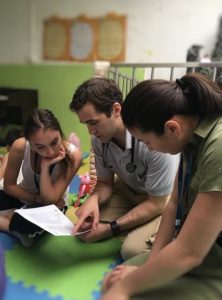 The caretakers at this foster home work very hard to care for all of the children, but I imagine that due to the uneven ratio of children to caretakers, it is hard to give each child the attention he or she truly needs and deserves. Some of the children had clear signs of not having received the care necessary for proper development.
Hopefully, thanks to our medical services and the Wheels for Life program, we can give these children a better chance at survival and a healthier, happier life.
HEALING BRINGS HOPE
治愈承载希望