Patient Advocate Story | Baby Wei
By 志愿者绮雯和欣雨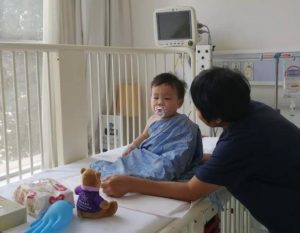 Baby Wei and his care giver
On July 14th, as Foundation volunteers we visited baby Wei who is admited in Beijing United Family Hospital. Wei is 14 months old and suffers from imperforate anus. Wei has had anoplasty this January here and recovered well. This time he is admited for the surgery to close colostomy.
Imperforate anus is a congenital malformation of the lower bowel which needs to corrected by surgery. Before the major surgery, a colostomy is usually made to pass stool.
Baby Wei's care giver told us that Wei needs to control his diet to avoid adverse effect of surgery. He usually takes 100ml of milk, but now is only allowed to take half the amount.
This case is support by Children's Medical Care Program of UFCH.
HEALING BRINGS HOPE
治愈承载希望