WFL Mobile Clinic | Tianyi Nursing Nome Visit
United foundation for China's health reached the nursing home by "Wheel for life" mobile clinic bus with our team of Family medicine doctors, fellow doctors, nurses and volunteers.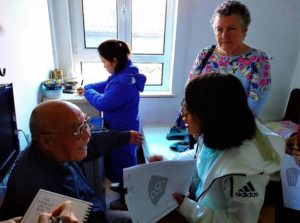 Doctors and fellows taking inpatients' history
Tianyi Nursing Home looks after aged people, from 75 to 105 years old, suffering from age related illnesses and sometimes a bad living. Many patients had severe problems in the past, like malignancy, hypothyroidism, cardiovascular diseases and osteopathic conditions. Some of them have been in course of long term treatment and the therapy given is hardly the best for them. Therefore, one of the main problems that the doctors have realized is the high risk of relapse. Generally, the elderly people are taken care of very well, the rooms are fit for them, the care givers are very friendly and the structure has the basic tools to allow the inpatients live a comfortable life. The patients undergo check-up annually, so it was easy to evaluate their status.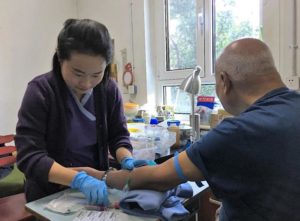 Nurse taking blood for examination
For each patient, the fellow doctors talked to him/her at first, to acquire a detailed medical history. Next is a series of physical examination. Under the supervision of training doctors, fellow doctors meticulously studied and discussed the previous medical records and reports. In the end doctors gave a brief medical education and a precise treatment plan. These aged people all have different life stories and were happy to share with us. Pouring out your feelings is usually the best treatment.  Their morale is generally good, which I guess is the reason why they were at ease when our fellow doctors asked about their stories. Empathy is important for healing.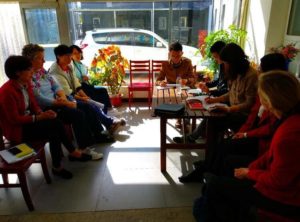 Doctors discussing about the cases
We are giving our best support and sharing knowledge is a valuable encouragement to build a more and more efficient healthcare system. United Foundation for China's Health will do continues care every 3 month and wish the elderly a long and health life.
HEALING BRINGS HOPE
治愈承载希望